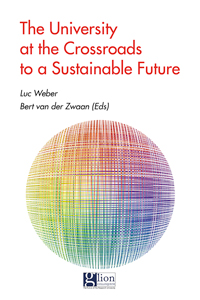 ---
Luc E. Weber and Bert van der Zwaan (eds) The Glion Colloquium , Volume Nr. 12, Geneva (2020)
This twelfth volume of Glion Colloquiums provides a striking kaleidoscopic perspective of the fast-changing environment of University activities and its consequences for their role and responsibilities. The diversity of the remarkable contributions provided here by some of the most eminent leaders of Research University around the globe comprise indispensable advice on guiding the Universities' future.
Innovation and rapid technological advances, many of them initiated by universities and their graduates, have produced prosperity and improved living standards for billions of people. But the world is nonetheless increasingly polarized between the "haves" and "have nots", and is facing a looming environmental disaster. Political and business leadership worldwide are in a growing state of disarray, unable to deal with these challenges. Thus, Universities are more than ever at the crossroads of these paradoxical developments: not only do they contribute to the development of societies through teaching and research, but they must also help ensure a sustainable future.
More than 20 leaders of renowned universities gathered in Glion-above-Montreux in Switzerland for three days in June 2019 to exchange and examine openly the new challenges facing universities and how they should respond. Their unique and remarkable contributions are now made available in this volume to students and researchers, to the worldwide academic community, to governments and to the general public.
Detailed Information
Published January 2020 by The Association Glion Colloquium, Geneva, 257 pp, 18.00 US$
Glion Colloquium Volume #12 (paperback)
ISBN 978-1-704-29253-3
Contributors
Leszek BORYSIEWICZ Chairman Cancer Research UK and Vice-Chancellor Emeritus University of Cambridge, Shiyi CHEN President SUSTech Shenzhen, Nicholas DIRKS Chancellor Emeritus UC Berkeley, Yves FLÜCKIGER Rector University of Geneva with Stéphane BERTHET, Alice P. GAST President Imperial College London, Meric GERTLER President University of Toronto, Michael HENGARTNER President University of Zurich with Anna DAEPPEN, Tim KILLEEN President University of Illinois System, Sabine KUNST President Humboldt University Berlin, David LEEBRON President of Rice University, Joël MESOT President Swiss Federal Institute of Technology Zurich, Michael MØLLER Director-General of the United Nations Office at Geneva, Pratab Bhanu MEHTA Vice-Chancellor Ashoka University, Andrea SCHENKER-WICKI Rector University of Basel, Atsushi SEIKE President Emeritus KEIO University, Michael SPENCE Vice Chancellor and Principal University of Sydney, Subra SURESH President Nanyang Technological University Singapore, Eng Chye TAN President National University of Singapore, Martin VETTERLI President Swiss Federal Institute of Technology Lausanne with Gérard ESHER, Jaeho YEOM President Emeritus of Korea University, Bert van der ZWAAN Rector Emeritus University of Utrecht, Past President LERU.